Young people have always had a fascination with things that go fast, and dirt bikes are very much no exception. In recent years, more and more manufacturers have been switching towards making electric dirt bikes. But who is winning this arms race? 
When choosing an electric dirt bike for your kid, make sure to get it from a trusted brand. Important things to consider include seat height, power, speed, brand, and safety features. You should always tailor which bike you buy to the specific needs of your child. 
In this article, we will be discussing what kind of things you should think about when choosing an electric dirt bike for your kid, before comparing different makes and models to see who is making the best bikes on the market today. Let us begin!
Why Choose Electric? 
Before we get into particular models of bike, it is worth looking more generally at the difference between petrol and electric bikes. There has been an explosion of new electric dirt bikes in recent years, and the reasons for choosing one over a bike with a traditional engine keep mounting! Here are a few reasons to choose electric:
Less Maintenance
This is perhaps the best reason to choose electric. Checking the tire pressure and adjusting the chain are just about the only bits of maintenance you need. With an electric bike, you no longer need to change the oils, spark plugs, or coolant. Plus, you no longer need to worry about the engine itself breaking down. If you are having a problem with the battery of an electric dirt bike, you can simply swap out the battery for a new one. 
Lower Running Costs
Aside from not needing to change things like oil and coolant, which can be quite expensive, electric bikes are just generally cheaper to run. That is largely because you do not have to constantly fill them with petrol, which is becoming more and more expensive thanks to dwindling supplies and climate change legislation.
Another benefit of having no petrol is that you can lay the bike down on its side without worrying about petrol spilling all over your trunk. 
Better for the Environment
In general, electric vehicles have a much smaller toll on the environment. According to the WHO, approximately 4.6 million people die from air pollution each year! A significant amount of that air pollution comes from the exhaust pipes of petrol vehicles. Plus, electric vehicles are responsible for far fewer CO2 emissions, which are the primary driver of climate change.
All in all, electric bikes are a big step up when it comes to environmental health. 
Performance Advantages
Were you dreading having to kickstart your kid's bike every few minutes? Electric dirt bikes have the advantage of starting at the simple flick of a switch. On top of that, electric motors can deploy all their power instantly rather than having to warm up to it like a petrol motor. That means acceleration is always going to be better on an electric bike.
Perhaps the biggest performance advantage (especially for parents) is that electric bikes make no noise.
What to Look for in a Dirt Bike for Kids
Now that we have hopefully convinced you of the merits of electric vehicles, let us move onto more general considerations about what to look for in a dirt bike for kids. One important point to make right at the beginning is that you should try to tailor the bike to your kids' needs rather than just buying the best one on the market. That said, things like the build quality and safety features are also very important.
Here are a few things to think about:
Height
The size of the bike is one of the most important things to consider before buying. Your kid should be able to rest their feet flat on the ground and be able to get on and off the bike with ease. If the bike is too tall, they will struggle to stay upright when they come to a stop. Too small and they will be hunched over and not develop proper riding techniques.
MudBike.com has created a handy table to help you decide what the right height is for your kid. 
Another good tip is to get a bike that is nearly too big for your kid. So long as the seat/suspension can be adjusted to the right height, a bike that is nearly too big will stay with your kid for longer, since they will not grow out of it as quickly. Of course, be careful not to get one too big as this can be dangerous for the child. 
Power
This one is a bit of a no-brainer, but it is worth mentioning that the power the bike has available should be tailored to the age of the kid. A child of 5-7, for example, should not have a bike that is more than the equivalent of a 50cc engine. It is also worth noting that there are plenty of bikes available that have speed limiters, which means you can change a setting, then sit back and relax in the knowledge that the bike cannot reach dangerous speeds. 
Choosing the Right Brand
One reason why you should think about the brand before buying a bike is that, in all likelihood, you will want to sell the bike in a few years. Not only will your kid get too big for the bike, at some point, they will become desperate for more power. The reputation of the brand, then, becomes an important factor in how much you will be able to get for the bike when the kid is done with it.
It will also, of course, impact the reliability and build quality of the bike.
Now that we have gotten the more general considerations out of the way, it is time to look at some specific brands and models to see how they compare. Remember, even if one of these bikes looks great, you have to make sure that it also suits the specific needs of the kid like their height, weight, experience level, and age. A great bike is no good if it is too small or, worse, too fast. Let us get stuck in!
While it is quite expensive, the SX-E 5 is one of the best electric dirt bikes on the market today. It has a throttle limiter with 6 different settings, which means that you can start your kid out slow, then gradually increase the available power as they become more comfortable with the ride. The height and shape of the bike can also be adjusted, with 6 different seat heights and adjustable handlebars. 
This bike is in the 50cc category, which means it will be perfect for a child of around 4 to 7 years old. It is a very versatile design that will suit everyone from a beginner to the more advanced kids in the 50cc category. The SX-E 5 has a battery that can be charged from 0% to 80% in just 40 minutes, which will then last for between 25 minutes and 2 hours depending on how hard the bike is being ridden. That is a very competitive battery life!
Still in the 50cc equivalent range, this bike is significantly cheaper than the KTM, while still retaining excellent build quality. The first thing to say about this bike, however, is that the recommended age of 13 is simply misleading. Most reviews say that there is no way a 13-year-old would be small enough to fit on this bike. For a 4 to 10-year old, however, this is still a great bike. 
The Dirt Rocket is essentially a perfectly scaled-down version of an adult motocross bike. While it may be a serious step down from the likes of the KTM SX-E 5, it is also approximately a tenth of the price. We all know that kids can move onto new things at the drop of a hat. If you are worried about that, maybe it is a better idea to buy something in this price range then move up to something more expensive if your kid takes to the sport. 
This is another pretty top-of-the-range bike, despite being Husqvarna's first ever electric dirt bike. While it will cost a fair bit more than the Razor, you will get what you paid for in terms of build quality, safety features, and durability. Like the SX-E 5, this bike comes with a power limiter so parents can decide what kind of speeds they want their kids to be able to reach.
This bike also has great adjustability. With a bit of work, you can set the seat height anywhere between 26.9 and 21.9 inches (68.3 and 55.6 cm). It will suit a child anywhere between about 4' 2" and 4' 8" tall. The EE 5 has a very similar range to the SX-E 5. Husqvarna claims that it will last up to 2 hours with a beginner in the saddle, although that drops to about 25 minutes in race conditions. 
This one falls into a price range between the likes of the Husq and the KTM, coming in at around $800. One big issue with this bike is that there is no display, which means you do not know how much battery is left until you run out. One big plus, however, is that this is a fantastic-looking bike. Your kid will be so happy with how it looks, and they might not even notice that the range and speed are not the best. 
The top speed is, however, adjustable. The absolute top speed is 15mph, but that can be limited to either 7mph or 4mph using a switch on the battery compartment.
It also has disk brakes, which have far superior performance to other types of brakes like rim or drum brakes. Disk brakes have better stopping power, do not heat the rims as much, have better traction, and can be used with any type of tire, which means you can change them without worrying.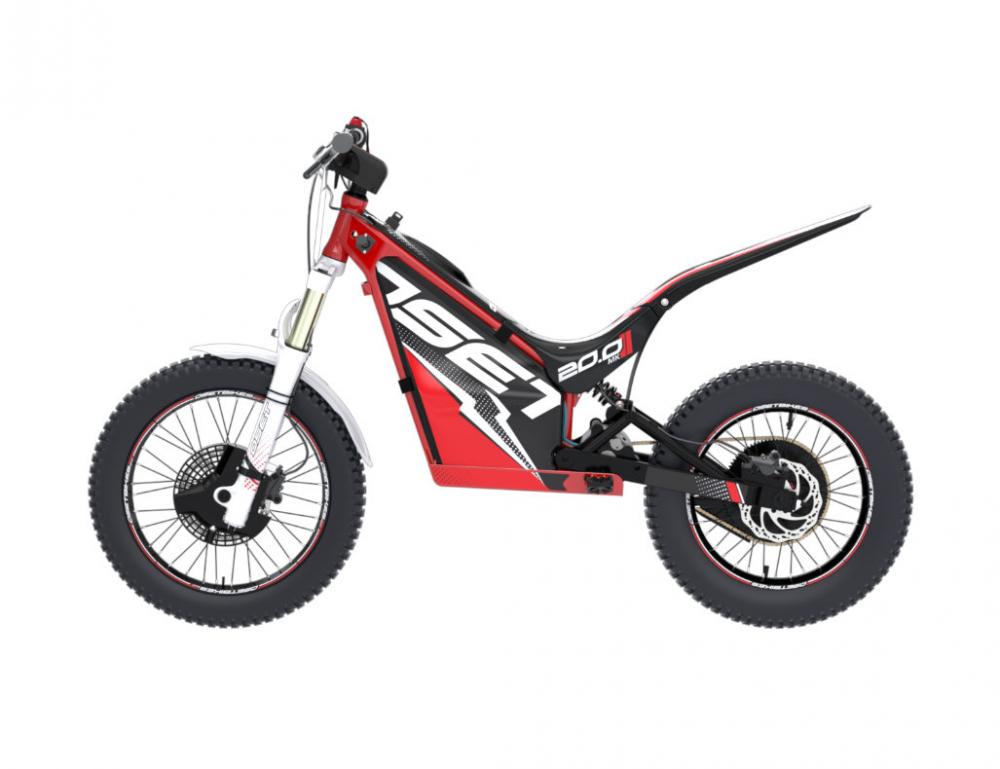 No list of electric dirt bikes would be complete without an entry from OSET, who has been one of the leaders in the field for quite some time. The MKII is a sturdy, reliable bike for kids of about 8 and up. With an adjustable seat and handlebar height, however, your kid should be able to keep using it for years to come.
This bike has a super lightweight battery and a serious range. It can last up to 3 hours of aggressive off-roading, making it one of the longest-range bikes out there. It is also significantly cheaper than many other high-end bikes like the SX-E 5 or MX350, coming in at around $3,600. 
Parents also have the option to adjust the speed, responsiveness, and power characteristics of the bike, so you can set the bike to be as powerful as you think is safe.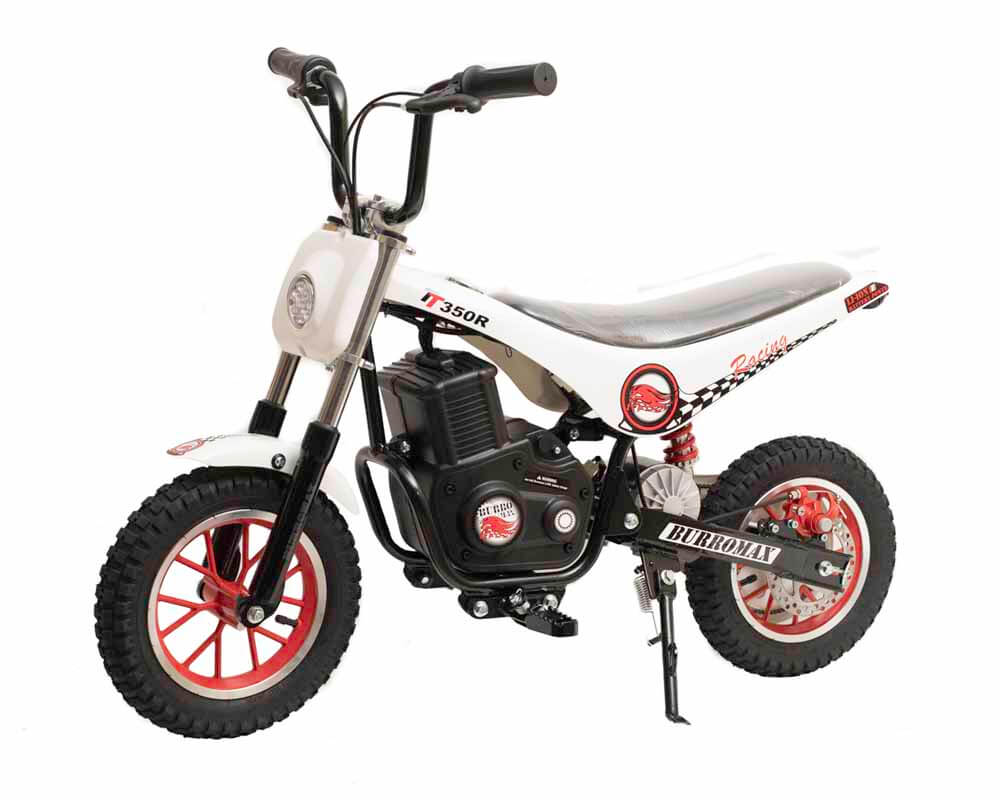 This is a really great bike, and it can be bought at a really great price. It is hard to go wrong with a bike which is available for just $499.95. The range on this bike is between 14 and 20 miles depending on the weight of the rider. It has 2 speed modes, one at 8mph and one at 17mph. That means it is great for a beginner, but it also has the option to be cranked up to a power level more suited to an experienced rider. 
This bike, which is primarily aimed at teens, comes with both a lithium-ion battery and disc brakes, which translates to fast charging, high range, and all the benefits of disc brakes listed above. Many customers are very impressed with the handling and suspension too. Again, if you are looking for a solid starter bike that is not going to break the bank, you may have just found your man. 
As the name might suggest, this is the MX350's big brother. This one's for older kids, although again, you can adjust the speed to something a bit more suited to younger kids. Like the Burromax, it has a top speed of 17mph. That does not, however, tell the whole story. At around double the price of the Burromax, this is a seriously well-built bike. Build quality is what you are really paying for when you choose Razor. 
Another great feature of the MX650 is the sound. Despite its formidable power, this bike is as quiet as they come and can be driven even in a busy neighborhood. It also has large, knobby tires that are perfect for gripping loose dirt when you are off-roading. This is one of the best-rated electric dirt bikes out there. It is not too expensive, and it is guaranteed to be of great quality and do everything you need. 
Safety Tips on Dirt Bikes
It can be a very difficult thing to accept that your kid wants to get into such an action-packed sport as dirt biking. It just looks dangerous. There have, however, been many advancements in the area of health and safety on dirt bikes in recent years. Plus, electric dirt bikes are generally safer than their petrol-powered cousins.
For one, there is no chance of the kid burning their leg on the hot exhaust pipe or engine. Here are some helpful tips for keeping your kid safe:
Your kid should always wear protective equipment, including helmets, goggles, gloves, boots, arm and leg pads, and long sleeve shirts. 
Children of 15 or younger should never be left to drive a dirt bike unsupervised. It may be pretty safe already, but you can never be too careful.
It is a good idea to stay away from paved roads or tightly packed mud. These bikes are designed for off-roading. Plus, you do not want your child to take a tumble onto the pavement.
Summary
Dirt biking can be a very enjoyable activity for people of all ages. Not only do electric bikes make it safer, but they also make it cheaper and better for the environment. However, before you buy a bike, make sure that your kid is genuinely interested in the sport. You do not want to spend a few thousand dollars on a bike only to find out that your child is a ballet dancer at heart. 
Hopefully, this guide has helped you to decide which bike is best for your kid. Remember, it is very important to make sure that the bike is the right height for your kid, and that it runs at a speed which is safe for a child of that age. 
Now you are ready to buy a bike and to bask in the never-ending enjoyment your kid will get from it. Enjoy!